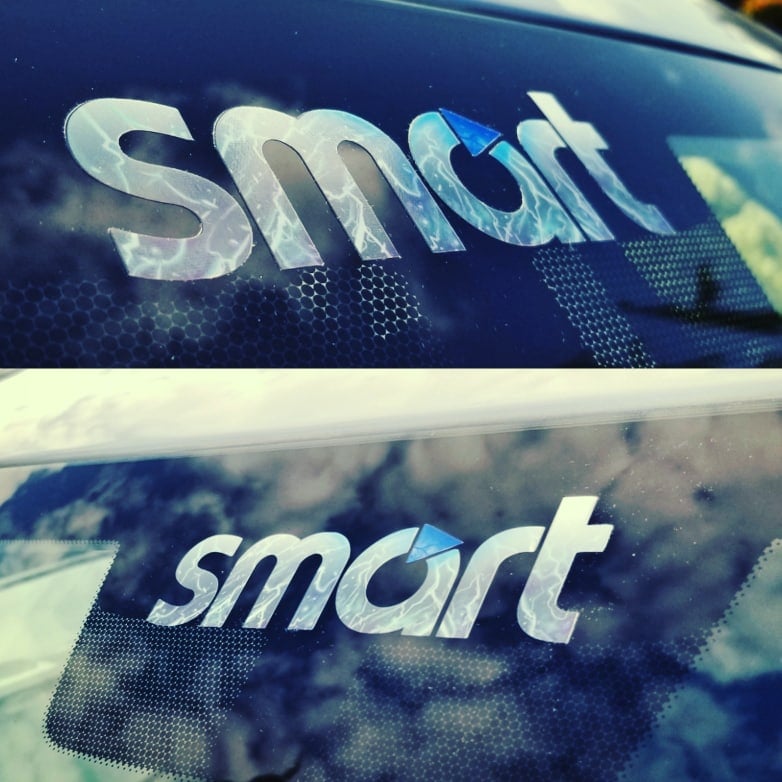 "Clever Tiny Car Stickers" Waterproof Smart inspired stickers
Made from the best high quality vinyl, bubble free, and waterproof the JTG stickers are perfect for elements. Wash your car as normal, right over the graphics with confidence. These are made to last and last with no background for a clean, modern look.
These Smart inspired pieces of art are apx. 2x6" and fit perfectly on the front windshield area. They are designed to fit in multiple locations on the fun tiny car and are based on the color schemes of the funky vehicles.*
-"Citrus Orange" Vibrant sunset with palm trees and Orange highlights
-"Charged Green" Electric Sparks and Green with Silver highlights.
-"Aquatic Blue" Waves and Ocean colors.
-"Plasma Green Carbon" Bright Green Plasma and Sparks over Carbon Fiber.
-"Carbon Black" Carbon Fiber weave with Electric Orange highlights.
-"Ghost White Carbon" White Ghostly Arrow and Highlights over Carbon Fiber.
-"Blazing Red" Fire and Flames with Orange, Yellow, and Red
-"Hearts" Passionate Red hearts with the colors of love.
-"Rainbow Road" All the colors of the rainbow, with a charged energy effect.
-"Purple Indigo" Electric Charged Purple bolts and accents.
larger sizes can be custom ordered as well as custom themes.
jtgoriginal@hotmail.com
(*Pictured example of a custom blue and purple, installed on a W451. Example only, colorway not available) Watermark protected online only, no background, stickers are text only as pictured)
See other work for purchase and in progress art videos at:
facebook.com/jtgoriginal
instagram @jtgoriginal